Discover some of the beautiful colours and custom blends top designers and architects have specified.
Our Covet concrete range is not an epoxy blend, or a composite fibre cement panel alternative. Designers can achieve a true concrete look, true concrete feel, because it is 100% concrete. Modern, timeless concrete.
With over 1400+ possible different combinations, the possibilities are endless. Specifiers can choose from over 20 base colours, 18 aggregate colours and 5 different aggregate sizes.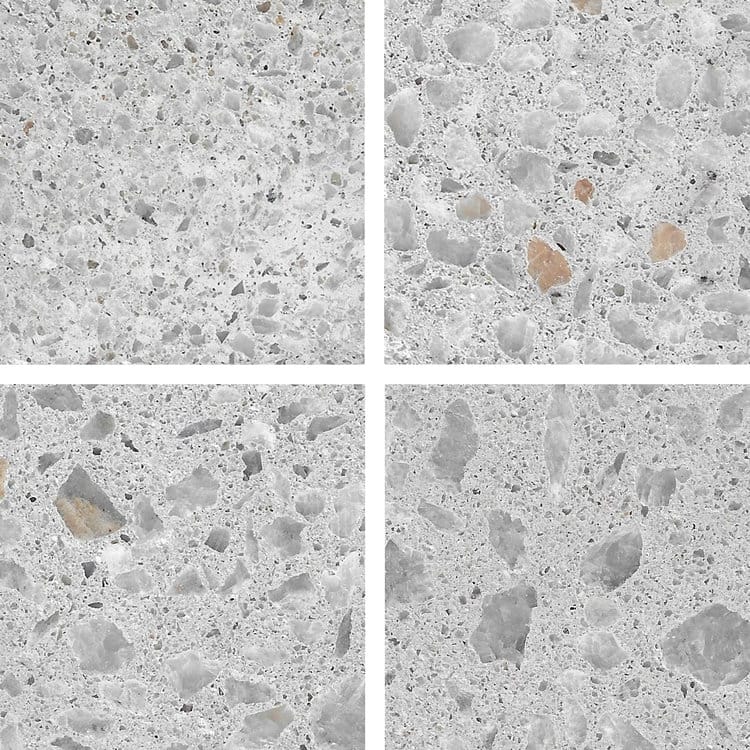 Aggregate size comparison
Concrete overlay colour
Concrete: Alabaster | Aggregate: Super Off White
Top row: Left 3mm - Right 6mm. Bottom row: Left 10mm - 14mm
Ivory with 6mm Keyneton Green Epidote
Concrete overlay colour
Concrete: Ivory | Aggregate: 6mm Keyneton Green Epidote
Acier 6mm Belvidere Marble
Concrete overlay colour
Concrete: Acier | Aggregate: 6mm Belvidere Marble
Acier 3mm Riverina Granite
Concrete overlay colour
Concrete: Acier
Aggregate: 3mm Riverina Granite
Ivory with 10mm Keyneton Green
Concrete overlay colour
Concrete: Ivory | Aggregate: 10mm Keyneton Green Epidote
Concrete 10mm Super Off White Marble
Concrete overlay colour
Concrete: Concrete | Aggregate: 10mm Super Off White Marble
Ebony 6mm Belvidere Marble
Concrete overlay colour
Concrete: Ebony | Aggregate: 6mm Belvidere Marble
Fossil 3mm Burgundy Granite
Concrete overlay colour
Concrete: Fossil | Aggregate: 3mm Burgundy Granite
Fossil 3mm Calca Granite
Concrete overlay colour
Concrete: Fossil | Aggregate: 3mm Calca Granite
Ivory 10mm Cudgee Marble & Seafoam Marble
Concrete overlay custom blend
Concrete: Ivory | Aggregate: 10mm Cudgee Marble 90% & 10mm Seafoam Marble 10%
Ivory 10mm Crushed Stonefield & Koonunga Hill Grey
Concrete overlay custom blend
Concrete: Ivory | Aggregate: 10mm Crushed Stonefield 70% & 10mm Koonunga Hill Grey 30%
Alabaster 10mm Keyneton Green Epidote
Concrete overlay colour
Concrete: Alabaster | Aggregate: 10mm Keyneton Green Epidote
Jet Black 6mm Super Off White Marble & Black Granite
Concrete overlay custom blend
Concrete: Jet Black | Aggregate: 6mm Super Off White 60% & 6mm Black Granite 40%
Pietra 6mm Koonunga Hill Grey Marble
Concrete overlay colour
Concrete: Pietra | Aggregate: 6mm Koonunga Hill Grey Marble
Ivory 10mm Angaston Pink Marble
Concrete overlay colour
Concrete: Ivory | Aggregate: 10mm Angaston Pink Marble
Sable 3mm Sunset Gold Marble
Concrete overlay colour
Concrete: Sable | Aggregate: 3mm Sunset Gold Marble
Shale 3mm Super Off White Marble
Concrete overlay colour
Concrete: Shale | Aggregate: 3mm Super Off White Marble
Taupe with 3mm Cudgee Marble
Concrete overlay colour
Concrete: Taupe | Aggregate: 3mm Cudgee Marble
Fossil with Petrified Wood
Concrete overlay colour
Concrete: Fossil | Aggregate: Petrified Wood
Ivory 3mm Super Off White & 6mm Black Granite
Concrete overlay custom blend
Concrete: Ivory | Aggregate: 3mm Super Off White Marble 10% & 6mm Black Granite 90%
Ivory 3mm Super Off White Marble
Concrete overlay colour
Concrete: Ivory | Aggregate: 3mm Super Off White
Concrete 6mm Harcourt Granite, Sienna Granite & Black Granite
Concrete overlay custom blend
Concrete: Concrete | Aggregate: 6mm Harcourt Granite 85%, 6mm Sienna Granite 10% & 6mm Black Granite 5%
Concrete 6mm Harcourt Granite, Sunset Gold Marble & Black Granite
Concrete overlay custom blend
Concrete: Concrete | Aggregate: 6mm Harcourt Granite 85%, 6mm Sunset Gold Marble 10% & 6mm Black Granite 5%
Acier 10mm Koonunga Hill Dove Marble
Concrete overlay colour
Concrete: Acier | Aggregate: 10mm Koonuga Hill Dove Marble
Alabaster 10mm Super Off White Marble
Concrete overlay colour
Concrete: Alabaster | Aggregate: 10mm Super Off White Marble
Ivory 6mm Super Off White Marble
Concrete overlay colour
Concrete: Ivory | Aggregate: 6mm Super Off White Marble
Ivory 10mm Super Off White Marble
Concrete overlay colour
Concrete: Ivory | Aggregate: 10mm Super Off White Marble
Pietra 6mm Koonunga Hill Grey Marble
Concrete overlay colour
Concrete: Pietra | Aggregate: 6mm Koonunga Hill Grey Marble
Shale Super Off White 3mm
Concrete overlay colour
Concrete: Shale | Aggregate: 3mm Super Off White
Pietra 3mm Koonunga Hill Dove Marble
Concrete overlay colour
Concrete: Pietra | Aggregate: 3mm Koonunga Hill Dove Marble
Alabaster 10mm Super Off White Marble
Concrete overlay colour
Concrete: Alabaster | Aggregate: 10mm Super Off White Marble
Alabaster 10mm Super Off White Marble & Black Granite
Concrete overlay custom blend
Concrete: Alabaster | Aggregate: 10mm Super Off White Marble 85% & 10mm Black Granite 15%
Concrete 3mm Koonunga Hill Dove Marble
Concrete overlay colour
Concrete: Concrete | Aggregate: 3mm Koonunga Hill Dove Marble
Concrete 6mm Belvidere Marble
Concrete overlay colour
Concrete: Concrete | Aggregate: 6mm Belvidere Marble
Alabaster 10mm Super Off White Marble, Black Granite & Cudgee Marble
Concrete overlay custom blend
Concrete: Alabaster | Aggregate: 10mm Super Off White Marble 80%, 10mm Black Granite 10% & 10mm Cudgee Marble 10%
Alabaster 10mm Super Off White Marble, Black Granite & Keyneton Green
Concrete overlay custom blend
Concrete: Alabaster | Aggregate: 10mm Super Off White Marble 80%, 10mm Black Granite 15% & 10mm Keyneton Green 5%
Acier 12mm Koonunga Hill Dove Marble
Concrete overlay colour
Concrete: Acier | Aggregate: 12mm Koonunga Hill Dove Marble
Alabaster 6mm Super Off White & Angaston Pink Marble
Concrete overlay colour
Concrete: Alabaster | Aggregate: 6mm Super Off White Marble & 6mm Angaston Pink Marble 95|5 custom blend
Pewter 3mm Koonunga Hill Dove Marble
Concrete overlay colour
Concrete: Concrete | Aggregate: 3mm Koonunga Hill Dove Marble
Acier 6mm Black Granite
Concrete overlay colour
Concrete: Acier | Aggregate: 6mm Black Granite
Alabaster 6mm Black Granite
Concrete overlay colour
Concrete: Alabaster | Aggregate: 6mm Black Granite
Alabaster 10mm Black Granite
Concrete overlay colour
Concrete: Alabaster | Aggregate: 10mm Black Granite
Alabaster 6mm Koonunga Hill Grey Marble
Concrete overlay colour
Concrete: Alabaster | Aggregate: 6mm Koonunga Hill Grey Marble
Alabaster 6mm Burgundy Granite & Koonunga Hill Dove Marble
Concrete overlay colour
Concrete: Alabaster | Aggregate: 6mm Burgundy Granite & 6mm Koonunga Hill Grey Marble 30|70 custom blend
Alabaster 6mm Burgundy Granite & Koonunga Hill Grey Marble
Concrete overlay colour
Concrete: Alabaster | Aggregate: 6mm Burgundy Granite & 6mm Koonunga Hill Grey Marble 30|70 custom blend
Alabaster 6mm Koonunga Hill Dove Marble & Super Off White Marble
Concrete overlay colour
Concrete: Alabaster | Aggregate: 6mm Koonunga Hill Dove Marble & 6mm Super Off White Marble 40|60 custom blend
Alabaster 6mm Koonunga Hill Grey Marble
Concrete overlay colour
Concrete: Alabaster | Aggregate: 6mm Koonunga Hill Grey Marble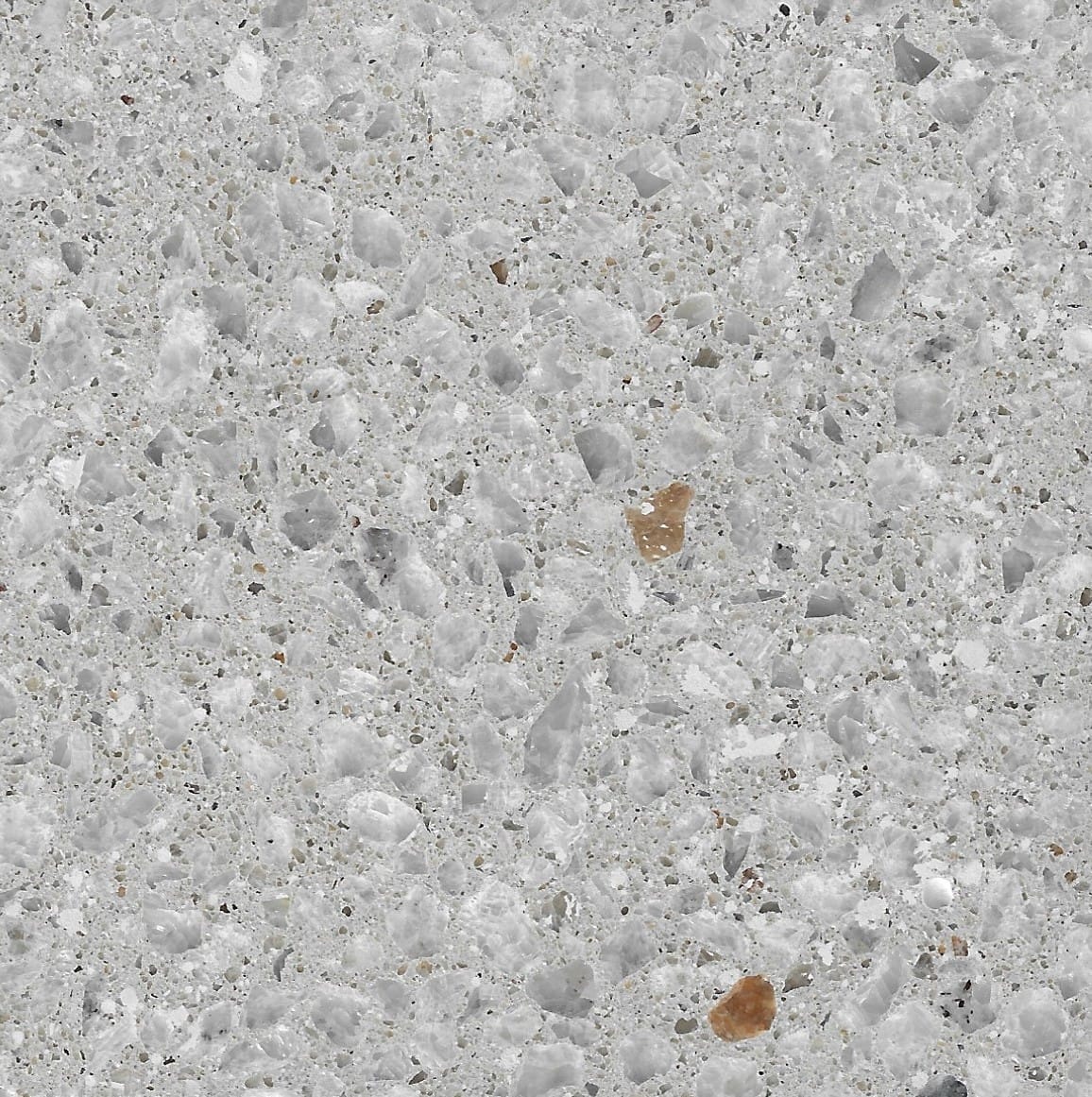 Alabaster 6mm Super Off White Marble
Concrete overlay colour
Concrete: Alabaster | Aggregate: 6mm Super Off White Marble
Alabaster 6mm Super Off White Marble & Koonunga Hill Grey Marble
Concrete overlay colour
Concrete: Alabaster | Aggregate: 6mm Super Off White Marble & 6mm Koonunga Hill Grey Marble 30|70 custom blend
Alabaster 10mm Crushed Stonefield & 6mm Koonunga Hill Grey
Concrete overlay colour
Concrete: Alabaster | Aggregate: 10mm Crushed Stonefield & 6mm Koonunga Hill Grey Marble 40|60 custom blend
Alabaster 10mm Super Off White Marble, Burgundy Granite & 6mm Padthaway Green
Concrete overlay colour
Concrete: Alabaster | Aggregate: 10mm Super Off White Marble, 10mm Burgundy Granite & 6mm Padthaway Green Granite 70|15|15 custom blend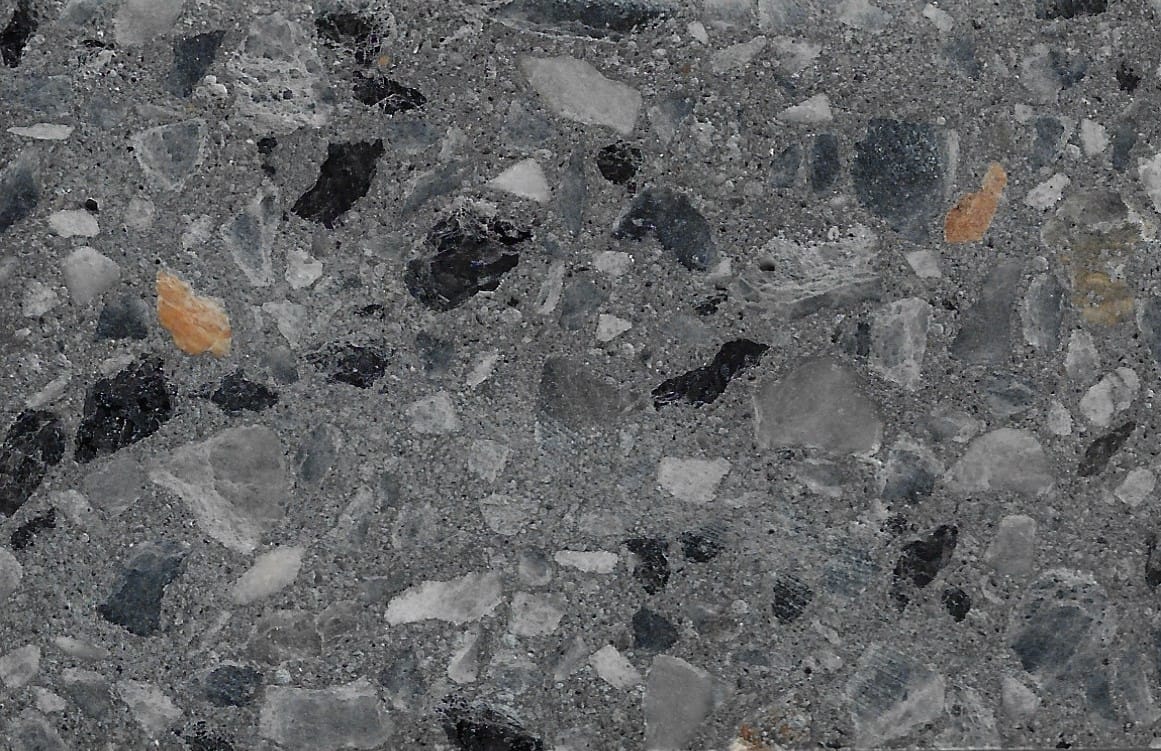 Coal 10 Black Granite & Belvidere
Concrete overlay colour"
Concrete: Coal | Aggregate: 10mm Black Granite & 10mm Belvidere Marble 50|50 custom blend
Concrete 6mm Black Granite
Concrete overlay colour
Concrete: Concrete | Aggregate: 6mm Black Granite
Custom Light Concrete 6mm Keyenton Green Epidote
Concrete overlay colour
Concrete: Custom Light Grey | Aggregate: 6mm Keyneton Green Epidote
Ivory 10mm Crushed Stonefield & Koonunga Hill Grey Marble
Concrete overlay colour
Concrete: Alabaster | Aggregate: 10mm Crushed Stonefield & 10mm Koonunga Hill Grey Marble 70|30 custom blend
Ivory 10mm Riverina Granite
Concrete overlay colour
Concrete: Ivory | Aggregate: 10mm Riverina Granite
Latte 10mm Cudgee Marble Culca Granite
Concrete overlay colour
Concrete: Latte | Aggregate: 10mm Cudgee Marble & 10mm Calca Granite 50|50 custom blend
Custom Light Latte 10mm Cudgee Marble & Calca Granite
Concrete overlay colour
Concrete: Custom Light Latte | Aggregate: 10mm Cudgee Marble & 10mm Calca Granite 50|50 custom blend
Pietra 6mm Koonunga Hill Dove Marble
Concrete overlay colour
Concrete: Pietra | Aggregate: 6mm Koonunga Hill Dove Marble
Hand Seeded Shale 6mm Calca Granite, Black Granite, Riverina Granite
Hand Seeded Concrete overlay colour
Concrete: Shale | Aggregate: 6mm Calca Granite, 6mm Black Granite & 6mm Riverina Granite 33|33|33 custom blend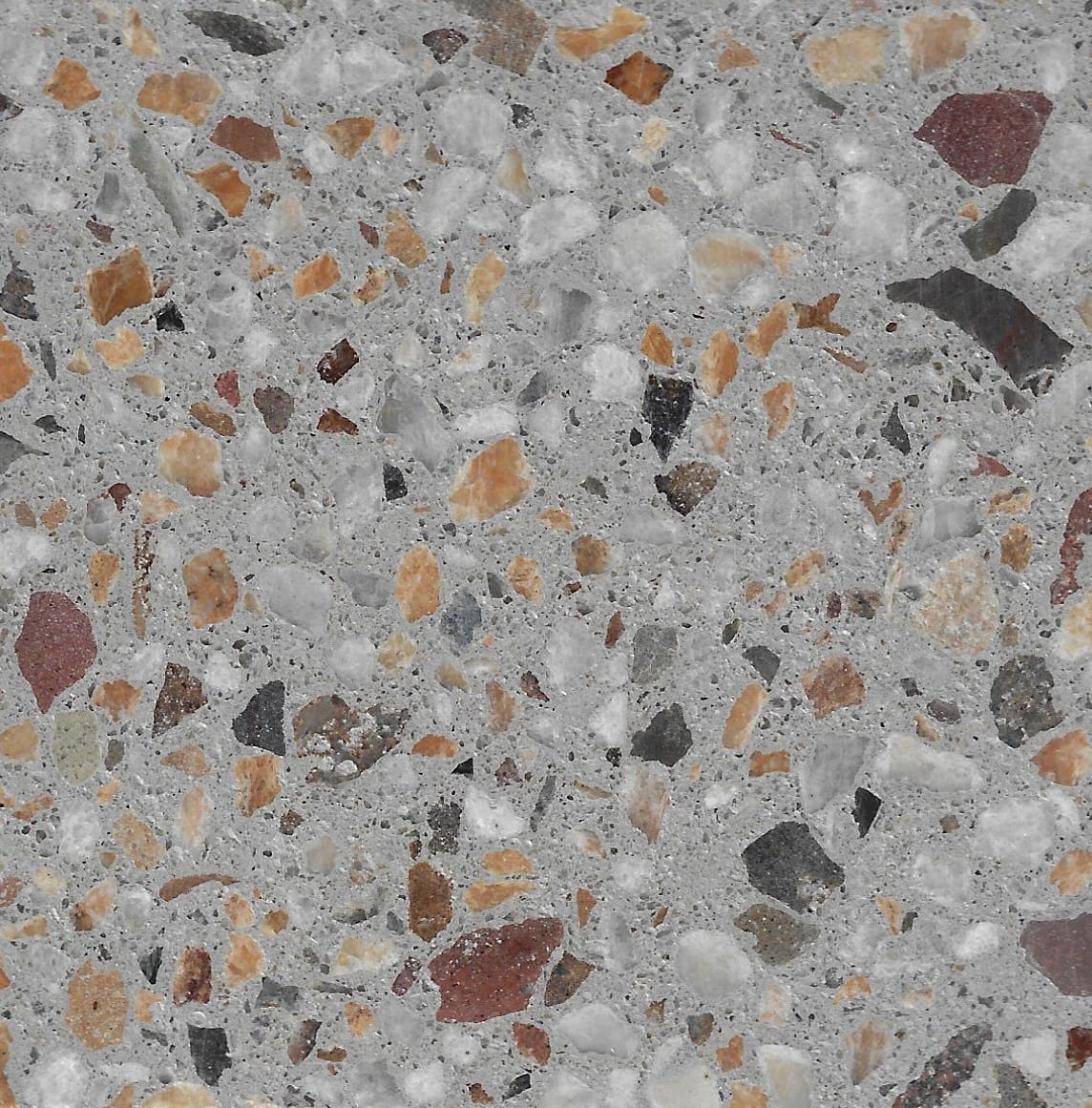 Pietra 10mm Crushed Stonefield & 6mm Cudgee Marble
Concrete overlay colour
Concrete: Pietra | Aggregate: 10mm Crushed Stonefield & 6mm Cudgee Marble 30|70 custom blend
Valencia Full Bodied Sand Mix
Concrete overlay colour
Concrete: Valencia
Custom White Latte 10mm Sunset Gold Marble & Seafoam Marble
Concrete overlay colour
Concrete: Cutom White Latte | Aggregate: 10mm Sunset Gold Marble & 10mm Seafoam Marble 10|90 custom blend
Shale Full Bodied Sand Mix
Concrete overlay colour
Concrete: Shale
Pietra 10mm Calca Granite & 6mm Cudgee Marble
Concrete overlay colour
Concrete: Pietra | Aggregate: 10mm Calca Granite & 6mm Cudgee Marble 30|70 custom blend